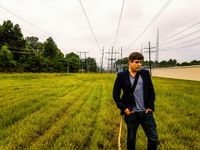 Finding his voice: Baton Rouge singer-songwriter Patrick Johnson talks new album, 'Monsters in the Clouds'
BY MATTHEW SIGUR | MSIGUR@THEADVOCATE.COM 
MAY 17, 2018 - 1:30 PM

Singer-songwriter Patrick Johnson celebrates the release of his new album with a Saturday night concert at Mid City Ballroom in Baton Rouge. 
PROVIDED PHOTOS BY LAFON WILLIS-JOHNSON 
For nearly a decade, Patrick Johnson felt like "a man in a suitcase." 
From 2007 to 2016, Johnson played bass with the New Orleans roots rock band Dash Rip Rock. However, he came to a fork in the musical road as his desire to write and release his own songs grew. 
"I wanted to do it my way and not be influenced by anyone else," Johnson said. 
Though he had released a debut solo album in 2014, he couldn't find time to tour. By 2015, he knew his time with Dash Rip Rock was coming to an end. The following year, Johnson left the band. 
"I had to decide if I was strong enough," Johnson said. "If I had tried to leave immediately, I would have had trouble. But the decision process helped me. 
"It was hard to let go (of Dash Rip Rock). You're in a good band that's touring and traveling a lot. After nine years on the road, though, I'm not living out of a suitcase anymore. It's nice to play closer to home." 
Johnson now has a new band and album, and he's excited about the future. He'll celebrate the release of his sophomore solo effort, "Monsters in the Clouds," with a concert at 9 p.m. Saturday at Mid City Ballroom. 
Johnson's band is filled out by multi-instrumentalist/producer Adam Hains, drummer Kyle Melancon, and lead guitarist and Johnson's brother, Paul. 
"I created the band I wanted to, with my friends, and I'm playing the music I've been working on since 2010," Johnson said. 
At this point, Johnson is no stranger to the recording process. He played on five albums with Dash Rip Rock and another three with Baton Rouge rock band Poor Harvey. He also has seen both sides of the music industry. While in Dash Rip Rock, he saw record companies dictate cover art, tracklistings and sounds. Independently, there is less outside pressure. 
"The challenge is finding your own voice," he said. "You're always finding out what's best through trial and error. It never ends. You're constantly learning how to improve." 
However meticulous Johnson is when writing and recording, he knew he didn't want to be disingenuous. 
"I hear a lot of songs today where people write about how awesome they are," he said. "I like songwriters who are not afraid to admit when they've made a mistake. Bragging doesn't do anything for me. When I hear someone trying to figure out if they have the confidence to make a decision, I can say, 'I've been there.' " 
PATRICK JOHNSON/THE MYTHICALS 
WHEN: 9 p.m. Saturday 
WHERE: Mid City Ballroom, 136 S. Acadian Thruway, Baton Rouge 
COST: $10-$15 
INFO: patrickjohnsonmusic.com

Dash Rip Rock Bassist Releases First Solo Album
BR native
by john wirt jwirt@theadvocate.com


Patrick Johnson, the Baton Rouge-based bass player in Dash Rip Rock, has released "Last River Drive-In," his first solo album. Nonetheless, the internationally known Dash Rip Rock, famous for its 1995 novelty hit, "(Let's Go) Smoke Some Pot," remains Johnson's musical priority.
A member of many bands before he joined Dash Rip Rock — including Elsah, The Prescriptions, Poor Harvey and the late Tabby Thomas' blues band — Johnson began making demos for his solo debut before he joined Dash in 2007.
"I always had it in mind to make a solo CD," he said. "But I wasn't confident in the songs until about 2010. Then I realized some of these songs might be OK."
Johnson financed the production of "Last River Drive-In" through a Kickstarter campaign. He recorded the songs at studios in Baton Rouge and New Orleans with a band including his guitarist brother, Paul Johnson. Johnson's artist wife, Lafon, painted the CD's retro cover art.
For a number of reasons, Dash Rip Rock leader and founder Bill Davis didn't participate in the "Last River Drive-In" sessions. To begin with, the pop-rock and punky rock songs Johnson writes don't mix well with Davis' music. During Johnson's years in Dash Rip Rock, the band has only played one of his compositions.
"It's a different style," Johnson explained. "And it's hard to write in the style of Bill Davis. Myself and some other members of Dash tried that in the past. It didn't work. Our songs don't fit the Dash setting."
Although Johnson invited Davis to play some guitar for "Last River Drive-In," the two of them mutually decided otherwise. Not wanting to ride Dash Rip Rock's coattails, Johnson did his album independently of the band.
This doesn't mean Davis doesn't support Johnson's solo project.
"He's been 100 percent encouraging and positive," the bassist and singer said. "He was thrilled when I gave him the CD. He said it sounded killer. 'Your Fire' is his favorite song."
Davis' benevolent attitude is not universal in the music business.
"Some big name bands and musicians might want you to work solely for them," Johnson said. "They could say, 'Anything you write while you're in this band belongs to the band.' But Bill has always been considerate. And I don't want to ever step on Dash's toes. If I have a conflict, I'd rather cancel my solo show and work with Dash Rip Rock. It's the bigger band and the band I have to work the hardest for."
His seven years in Dash Rip Rock have been a rollercoaster ride, Johnson said.
"I've played in, or at least traveled through, 43 states with Dash and most of the big cities," he said.
Johnson also played four tours of Norway and Denmark with Dash.
"We have a nice following in Denmark," he said. "And Dash Rip Rock was big in Finland for a while. The Scandinavians love American music. They like our sped-up, punked-out cowboy music, but whenever we slow it down and play the blues, that really brightens them up."
Johnson learned a lesson about being pigeonholed from Dash Rip Rock.
"Some of Bill's better songs are overshadowed by the sillier stuff that Dash does, like '(Let's Go) Smoke Some Pot.' It's not that those aren't great songs too, but when you've been stereotyped as 'The Pot Song' band and you try to do a ballad, people are going to be like, 'Get to 'The Pot Song.' That's why I didn't put any humorous songs on my record."